Tbilisi to Kazbegi, Batumi & Co. – Best transport Options
Kazbegi, Batumi, Kutaisi, and Gudauri are the most popular destinations in Georgia besides Tbilisi. For every destionations you have different travel options, from cheap public transportation to a comfortable private car (with driver). Depending on your needs you can choose what fits best for your trip through Georgia.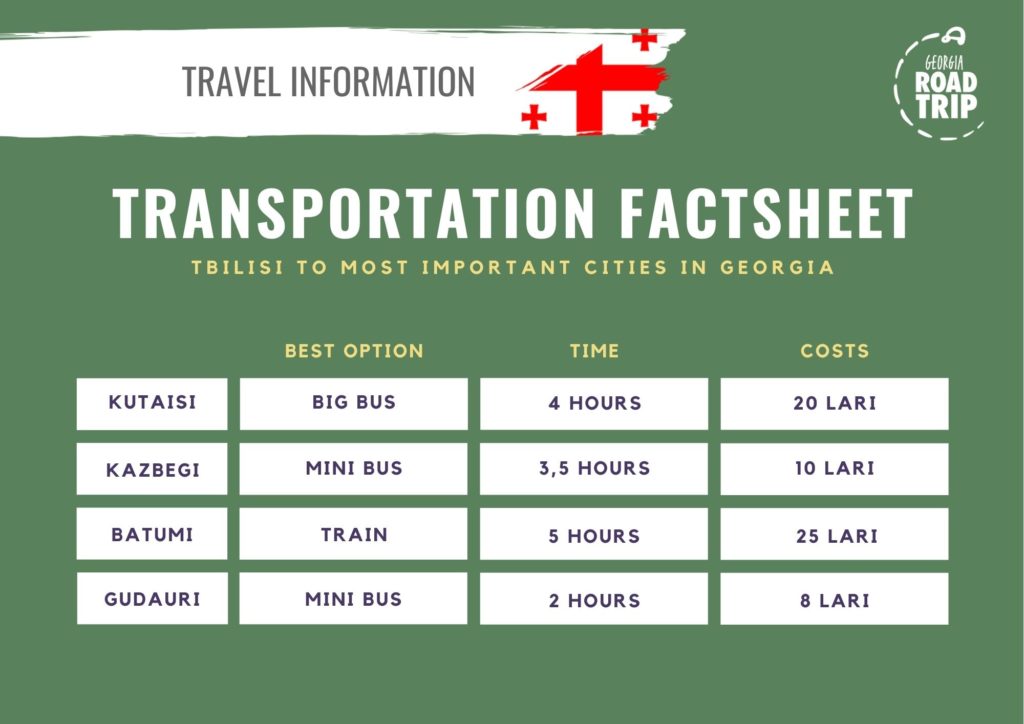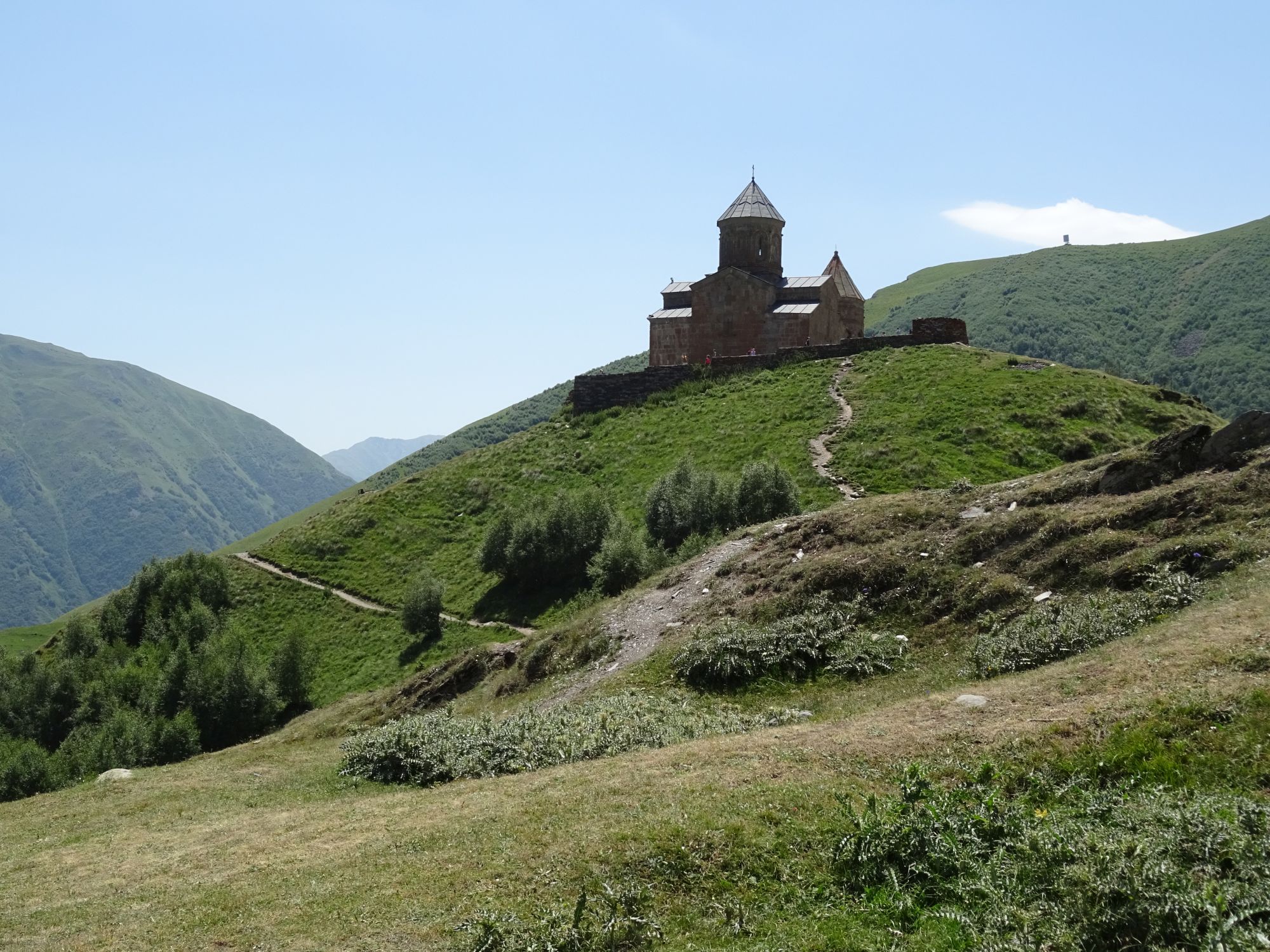 Car - To travel from Tbilisi to Kazbegi, any of the four means of transportation can be adopted. Using a private car will cost 100 Lari ($30) .The advantage of this is that you get to make as many stops as you wish, either to take photos, use the restroom, have a brunch and lots more. Private cars give you the luxury of traveling with comfort in your space. Every good thing has a cost to pay, this has been the only con of using a private car.
Taxi - Amongst the four different transport systems, taxis are the most expensive, about 130 Lari ($47). Privacy is guaranteed while using taxis, and it takes about 3 hours to arrive. A taxi ride can be ordered from Gotrip website.
Mini-buses - They are the cheapest option for traveling to Kazbegi. It costs 10 Lari ($3) and takes about 3.5 hours. In order to get to Kazbegi, you have to use the metro to Didube, then search for a mini- bus to take you there. The small buses are the cheapest mode of transport but they cannot provide you with absolute comfort because most of the time all seats are occupied.
Train - The most comfortable transportation is the train. It costs about 10 Lari ($3) to buy a train ticket and takes around 5 hours to get there. The frequency of the train to Kutaisi is once a day, and this is the major con, about travelling by train. The train station for tourists going to Kutaisi is located at Didube.
Mini-buses - Price is about 10 Lari to arrive at Kutaisi from Tbilisi and takes around 3.5 hours. As usual with the minibuses, it is a bit tighter and has only one stop, boarding a mini- buses will require one to search at the station in Didube.
Big-buses - Cost 20 Lari to board and can be taken directly from the airport.
Taxi - Cost for hiring from Tbilisi is around 130-150 Lari, depending on the negotiation. Privacy and premium comfort are rest assured while using a taxi, so, if you don't mind the cost, then this is a good alternative.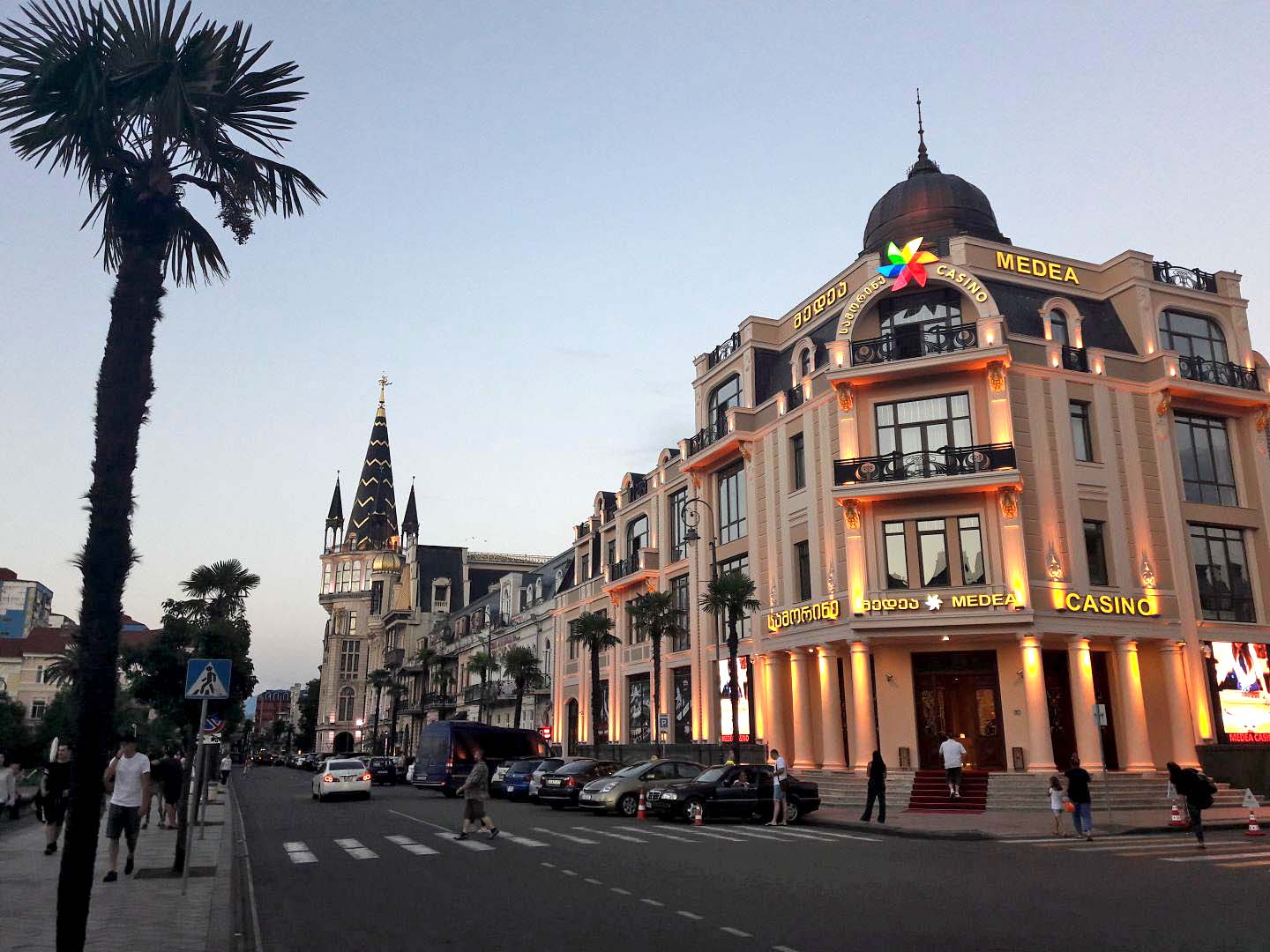 Train - This is the best, and comfortable means of travelling to Batumi. Takes about 5 hours, and costs 25 Lari. The train station is located in station square, at the centre of Tbilisi.
Big-Bus - The big buses charge around 25 lari for transportation and the duration is about 6 hours, one hour slower than the train. Most travelers prefer the big buses at night, as there are less number of stops, and the journey is faster. The big buses are also comfortable, so could be a second option when considering cost. The bus stations are located at Ortachala. This location is challenging to find for tourists, so it's advised to use a taxi to the bus station.
Taxi - Costs about 300 Lari and more and has a duration of 6 hours to arrive at Batumi from Tbilisi. Usually, taxis are one of the best options when it comes to your privacy.
Car - To rent a private car, the cost varies, depending on the car company, but for a good deal, it could be around 250 Lari and above. It takes about 6 hours to arrive at Batumi.
Most tourists prefer to travel to Gudauri during winter, as it is the most enjoyed time in season for the year, especially with ice-skating. There are not as many options for this trip, the major means are the mini-buses and taxis.
Mini-bus - With the mini- bus, which departs from Digomi, it takes around 2 hours to arrive at Guduari, and the cost is relatively cheap, 8 Lari. If you are traveling on a budget, the mini-buses are the best option to travel to Gudauri.
Taxi - It costs from around 200 Lari, depends on the taxi, and takes about 2-3 hours to arrive.
Generally, travelling within the cities (e.g. Tbilisi to Kazbegi) in Georgia are quite affordable and less stressful, depending on your preference, and wherewithal. The mini-buses and trains are the cheapest, while in terms of privacy, hired vehicles is the best option.
Start your trip
Book a

private

Car