Tbilisi Airport Transfer & Guide
GO TRIP GEORGIA
You just look for a local driver and car for transportation in Georgia? Then check out GoTrip Georgia! Find a local driver online.
GO TRIP
GEORGIA
You just look for a local driver and car for transportation in Georgia? Then check out GoTrip Georgia! Find a local driver online.
The Tbilisi airport is not very big. There is just one terminal where domestic and international flights are handled. The departure and arriving hall are right next to each other, but in separate buildings.
Guests can park their cars in the airport car park. It has two entry / exit points and offers space for over 600 vehicles. Payment will be made at the cashier, right next to the exit. The price for parking your car at the airport depends on the parking time. Monthly rate can be checked on the offical airport website.
Check monthly rates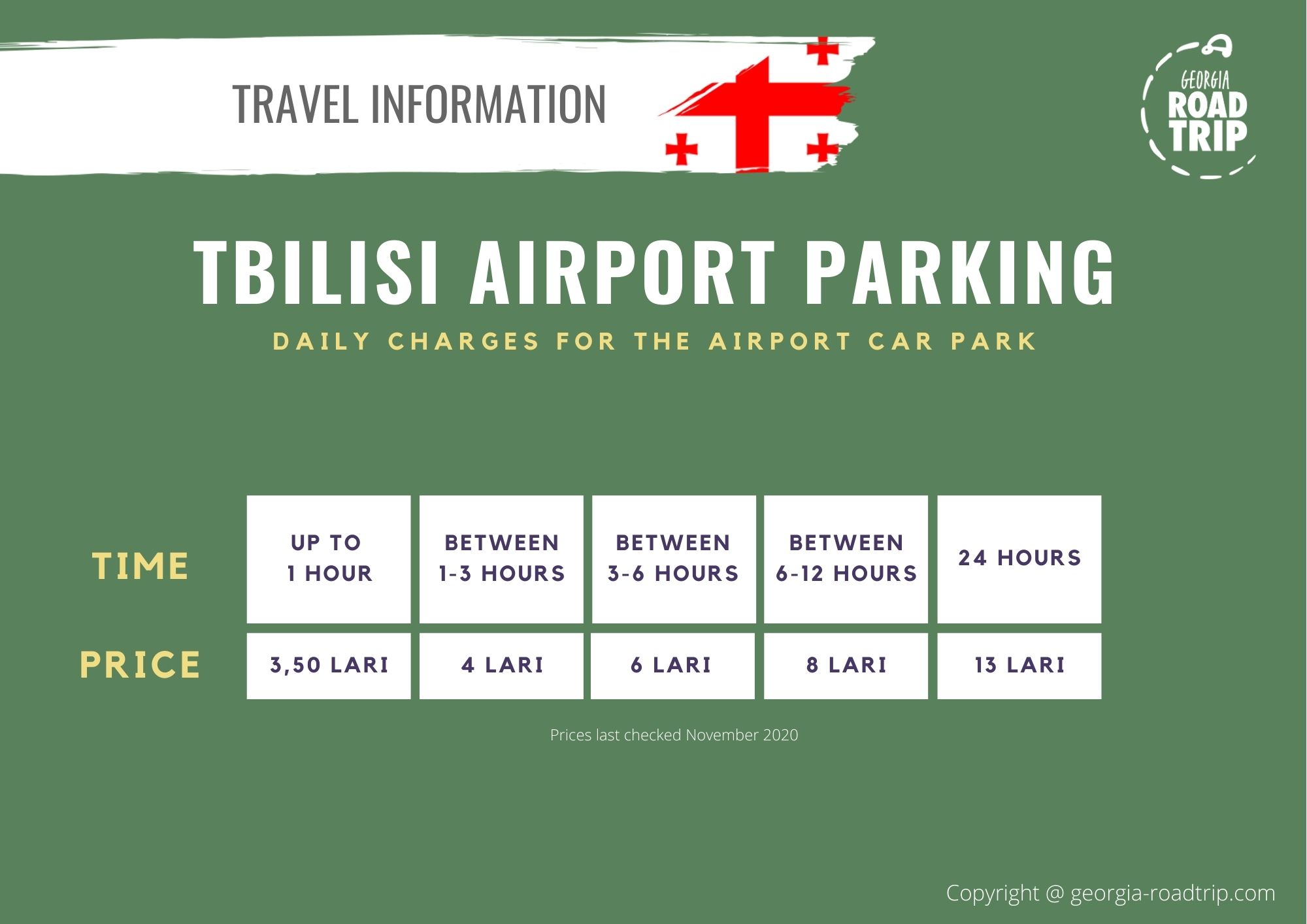 Which airlines fly to Tbilisi airport?
Tbilisi airport is frequented by a lot of well known international airlines. For example Lufthansa, Turkish Airlines, Qatar, Air France and much more. A full list of airlines which depart or land in Tbilisi you can read here. If you are traveling in Georgia on a budget you should check the flights to Kutaisi. It is the most popular airport for budget airlines like WIZZ AIR.
How to get from the Tbilisi Airport to the city center
The Airport is located about 17km east of the city center and can be reached with a car or motorbike within 20 minutes. Depending on your budget and your arriving time these transport options are available at the Tbilisi airport: Public transportation (BUS and TRAIN), TAXI, UBER, PRIVATE AIRPORT TRANSFER, CAR RENTAL and SCOOTER RENTAL.
Taking the bus is the easiest and cheapest way to get to the Tbilisi city center. Good for travelers with a low travel budget. There is just one bus leaving directly from the airport so you don't have to be afraid to get in the wrong one. It's bus 37 and departs every 30 minutes directly in front of the departure hall. (When you exit the arriving hall turn right and walk about 200m). The ride takes about 1 hour, because there are several stops on the way. The bus operates 24/7. 
The price is 0,50 GEL (ᐅ georgian exchange rates) and can be paid directly in the bus at a machine. If you don't know what to do, just ask one of the local passengers, I'm sure they are willing to help you. But keep in mind there is no change given. You should have the right coins. An alternative to cash money is the MetroMoney card. It can be used in buses and metro in Tbilisi. 
The bus stops at 3 different stations in the center: Avlabari metro station, Liberty Square and Rustaveli. Choose the one that is the closest to your hotel. From there you can walk, take another public transport option or a taxi. To check all bus lines visit the Tbilisi Transport Company website.
Tbilisi Transport Website
Taking the train from Tbilisi airport is another public transport option. It's the same price as the bus (0,50 Lari) but it just departs two times a day (8:35 AM and 5:40 PM). So if you are lucky and the time table fits your arrival time you have an additional and comfortable way to get from the airport to the city (Station Square)
When you leave the arrival hall for sure you won't miss the 3rd option to get to the city. A lot of taxi drivers will offer their service to the arriving tourists. But be aware that sometimes they charge a lot more than they should. If you already bought a SIM Card it's advisable to download a taxi app to get a good and cheap taxi driver. The most popular ones are: Yandex, Taxify and Bolt. The price to get to Tbilisi center should be around 20 – 40 Lari.
Fly Taxis are special airport taxis which take you to the city for a pre-set price. So there is a smaller chance to get ripped off. The price depends on the area where you want to go. There are 3 different zones, prices are 30 GEL, 40 GEL or 55 GEL.
Uber is operating in Georgia. If you are already an Uber App  user and bought a georgian SIM Card at the airport you can call a Uber driver to pick you up.
If you are looking for more travel comfort and don't want to think about how to get from the airport to your hotel, hiring a private airport transfer can be a good option. Maybe it's already included or offered by your hotel, if not you can book an independent driver. Read more about our private drivers in Georgia. Georgia Road Trip offers drivers for travel itinerary. They take you safely around Georgia. More info
Rent a car and pick it up directly at the airport. A lot of well known rental companies like Avis, Budget, Hertz or Sixt have a desk at the Tbilisi airport. To get a good price you should do some research in advance and book online already before your arrival.
If you like to discover the country with a scooter / motorbike you can directly start at the airport. If you book a scooter with us (ᐅ Scooter rental information) we bring the motorbike to the airport. Please contact us in advance so that we can organize everything and you can start directly after landing.
GEORGIA SCOOTER RENTAL
Of course like on every other airport you have the possibility right after landing to get some local currency. In Georgia it's the georgian Lari. There are ATMs as well as a money exchange office right at the airport. Tip: Don't get all your money there, just a bit for the first days because you get better rates in the exchange offices in the city.
Free wifi is available at the airport. I had some problems with connecting but it worked.
Buying a SIM card at Tbilisi Airport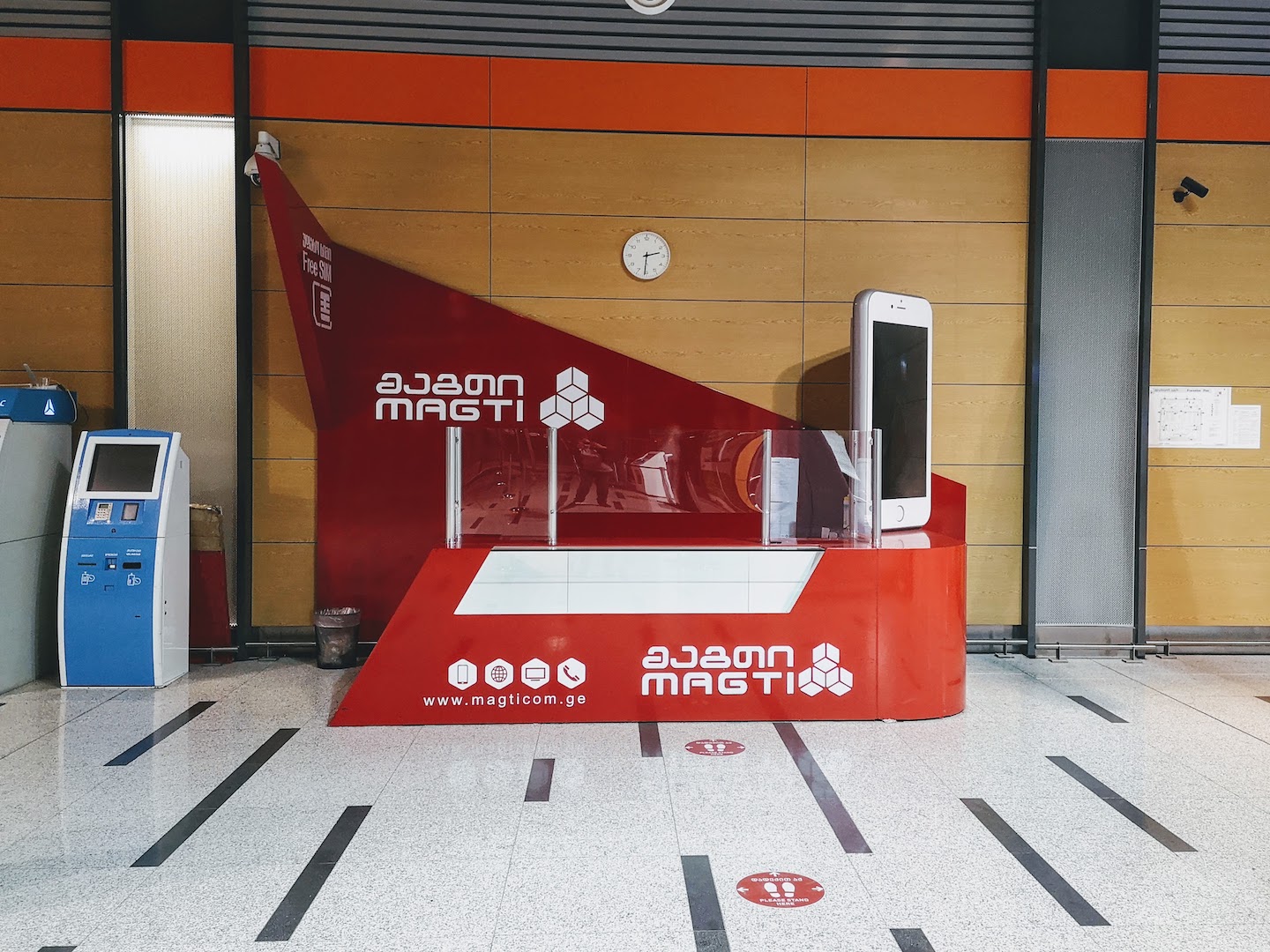 To be independent from WiFi and go online anytime you want you should buy a SIM Card in Georgia. The first possibility to do it is at the Tbilisi airport. You will find selling points of the most popular providers. Magti, the biggest one and the provider I can recommend even has a small selling point at the luggage pick up area. If you want to use Wifi right after landing you should buy a SIM Card at the airport. If you want to get a good price you should visit a store in the city. There are plenty of them in the city center.
To transport your luggage safely and prevent damages you can use the Luggage Wrapping Machine. It's located right after the entrance in the departure hall. It's in service 24 hours a day, 7 days in a week. The costs are 15 GEL, independent from the luggage size.
The Tbilisi Airport has a brand new Luggage Office. You can leave your bags there safely for 10 GEL (90 cm) or 20 GEL for bigger sizes. As well as the luggage wrapping machine, it's open 24/7