Winter in Georgia – Best Activities and Places to go
Have you already been to Georgia in the summer? Well, you can visit the country in the winter and still have the best time traveling, exploring as well as trying out new activities. This exceptional country, with all-year changing seasons, seaside and mountainous sites offers exciting summer and winter destinations. To get inspirations for your winter trip check out our winter itineraries for Georgia.
ITINERARIES
Things you can do and places to visit in snowy Georgia:
First and foremost activities that are the most popular amongst the tourists and the locals are skiing and snowboarding. So if you are an extreme junkie and sports lover, Bakuriani, Gudauri, and Svaneti are the cities you will end up visiting more than one time while traveling to Georgia. To start with, Bakuriani is the best option for beginners and the ones who do not know how to ski. There are several places to ski for every level and interest. You can find a-25-meter ski runs for children, Didveli – for intermediate level skiers and there is Mitarbi for more complicated ski paths. In every destination, you can find a cozy wooden cafe where you can help yourself with hot chocolate, tea or pizza, and french fries. In case you don't fancy skiing or snowboarding, in the city center there is a skating rink, you can ride horses or ride on a snowmobile. Hence, while visiting with family and little babies, there is an activity for every age group category in Bakuriani. It is recommended that you stay in the city for at least two days. The trip takes up to 3 hours from Tbilisi to Bakuriani.
Skiing and Wellness in Gudauri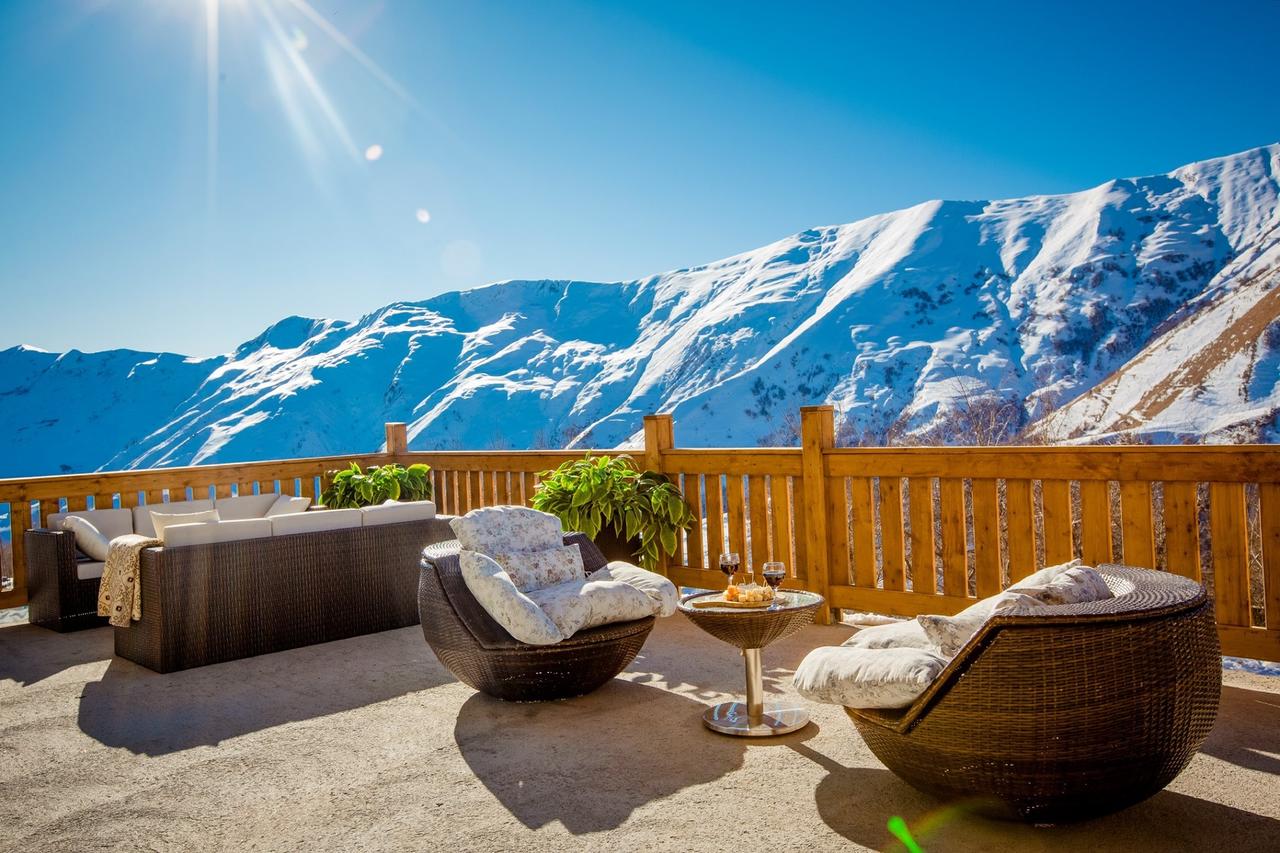 The second destination for skiing and snowboarding is Gudauri. It is the nearest skiing resort from Georgia's capital, Tbilisi with an hour and a half ride on a car. So without booking extra apartments in Gudauri you can simply arrive at Gudauri in the morning, have a good time, and leave in the evening. It is worth mentioning that the prices in Gudauri are a bit higher than in other skiing resorts. Also, a tip for professional and extreme skiing lovers –  take into consideration that, Gudauri is not the best place for skiing in the untouched snow. Because of the popularity of this destination, you may find yourself standing in a queue for a long time. Because Gudauri is very popular among winter travelers in Georgia the city offers a lot of hotels which have a wellness and spa area. If you want to relax after your long day on the ski run, check in to one of these wellness hotels.
HOTELS IN GUDAURI
Being established in 2009 in Gudauri, heli-skiing and heil-boarding is getting more and more popular among tourists. If you are looking for a truly unforgettable experience in the mountains of Caucasus, this activity on virgin powder snow is a must-try. Downhill skiing from the bird's-eye-view mountain peak is totally safe as all the international standards are taken into consideration. If you like going to places where only a few people venture, heil-skiing in Gudauri is the experience you won't forget. 
Paragliding is another way to feel yourself in a bird's skin, where you actually can fly. With 21 years of experience and safety measures being properly observed, a unique paraglide ride is an extraordinarily extreme activity that you can do in the Caucasus mountains. Tbilisi, Batumi, Gudauri, Vardzia, and Kakheti are the places where you can try this unique experience all year long. It is possible to book the activity before coming to Georgia.
PARAGLIDE WEBSITE
Mestia and highest restaurant in Georgia
The best quality of the snow for winter sports can be found in Svaneti. Tetnuldi near Mestia is a mountain where the skiing season lasts the longest. It is noteworthy that a ski track is the longest among the whole Transcaucasia. One of the negative sides of this place is that it is impossible to walk from Mestia to Tetnuldi, also there are no buses to take you. The only way to get there is by a rental or your own car which is not quite cheap. This place is perfect for both, beginner and professional skiers and snowboarders. Although there are no difficult ski tracks, unlike Gudauri it is the best place for skiing in the untouched snow. If you want to see Svaneti from the top, don't miss the opportunity to visit the hotel and restaurant "Zuruldi". It's available all seasons and captivates its visitors with the atmosphere and the view from the hotel as it's the highest spot in Mestia.
Borjomi and the Kukushka train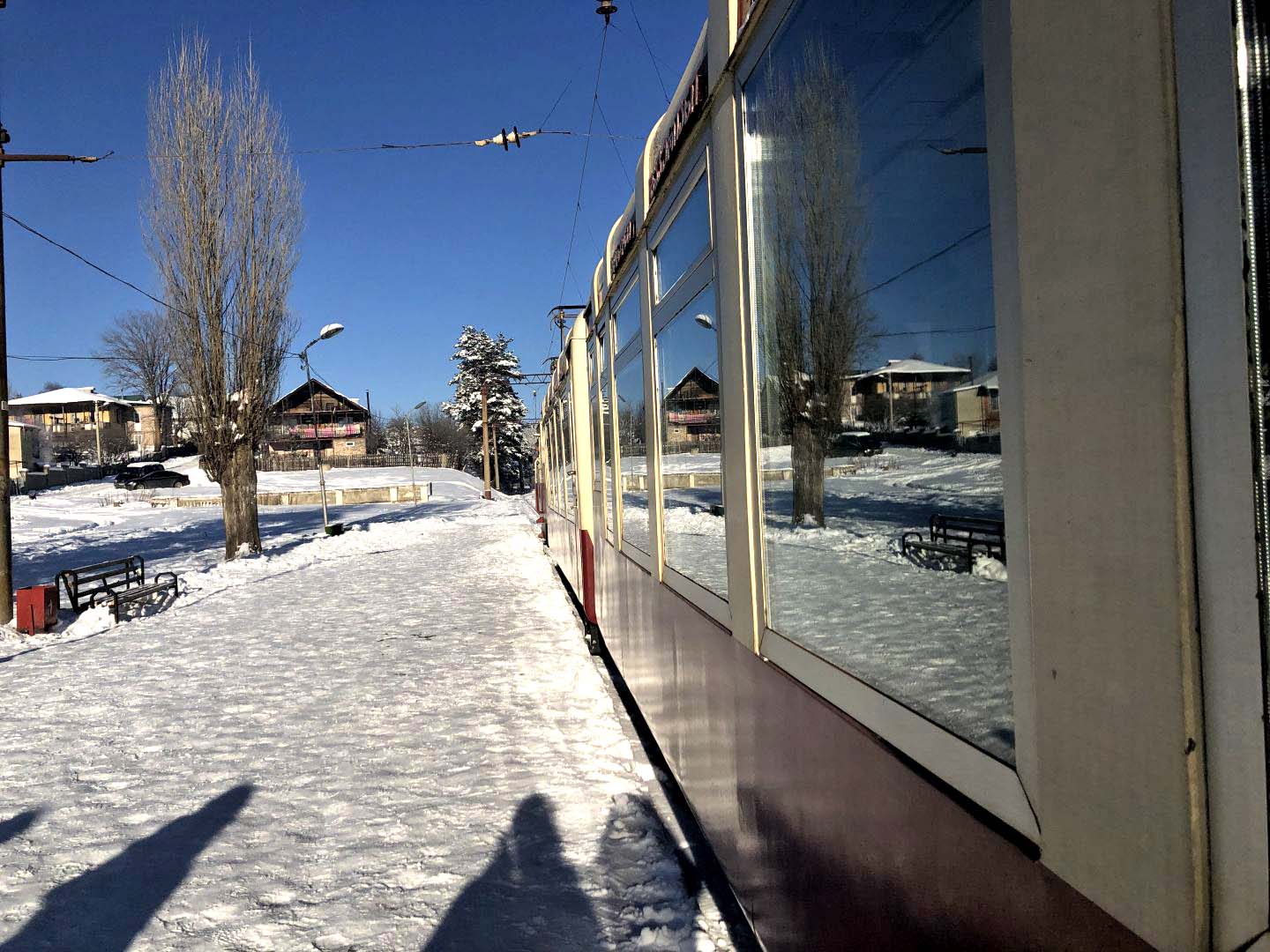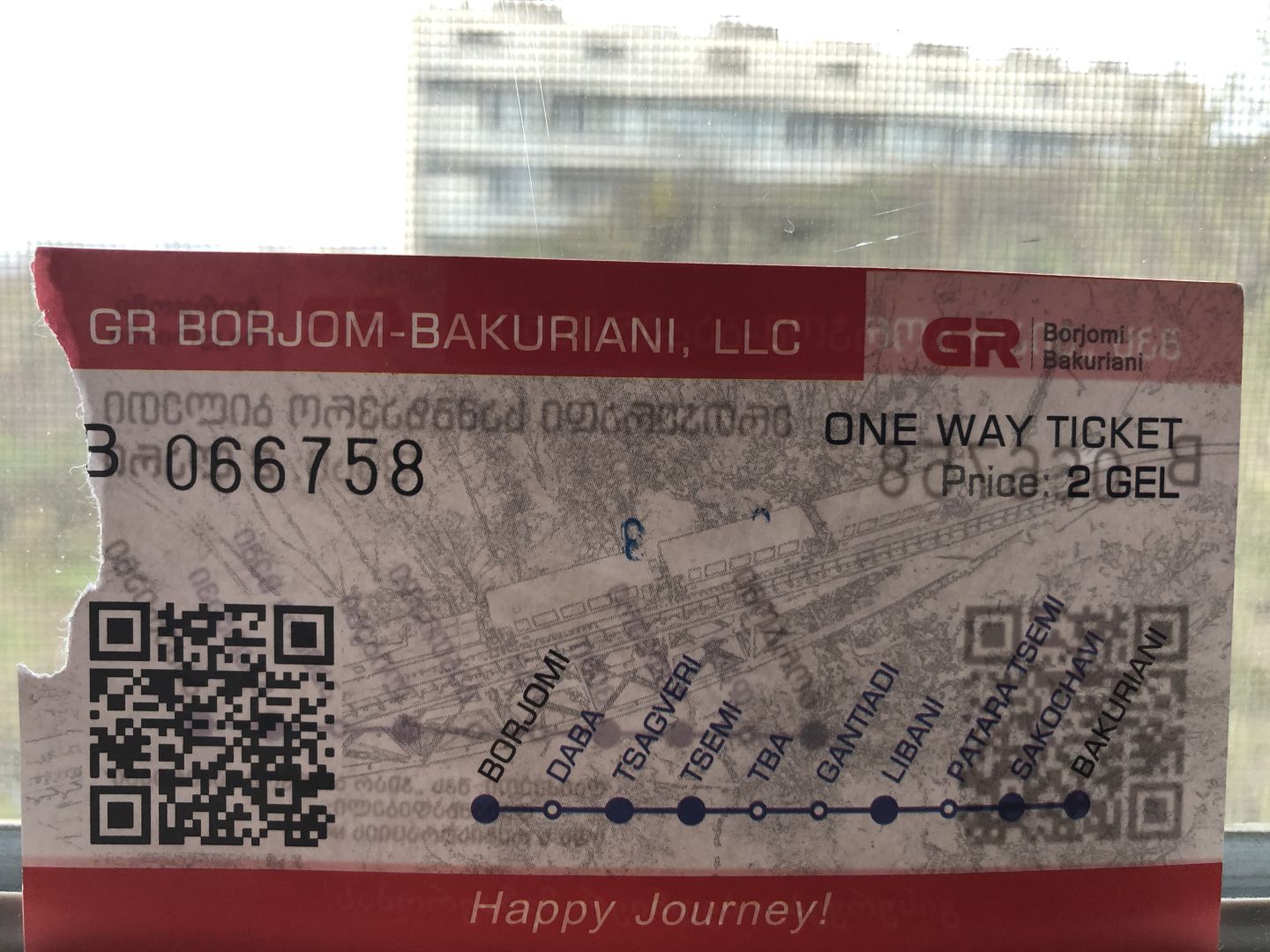 Talking about the quality air, you should definitely visit Borjomi. With the advice of a doctor, people with asthma and other diseases visit this place often. It is the place where the sparkling water "Borjomi" is originally from. The whole city is surrounded by mountains. There are camping places and if the weather is appropriate you can do rafting as well. As long as it's on the way to Bakuriani, instead of traveling by bus or taxi, do not miss the opportunity to hop on the Kukushka train. In a vintage train, on your 3-hour ride, you will pass between the snowy mountains and christmas trees. Do not worry about buying the ticket, when the train starts the conductor will collect the fee and give you a ticket that costs 2 Lari (ᐅ more about georgian currency)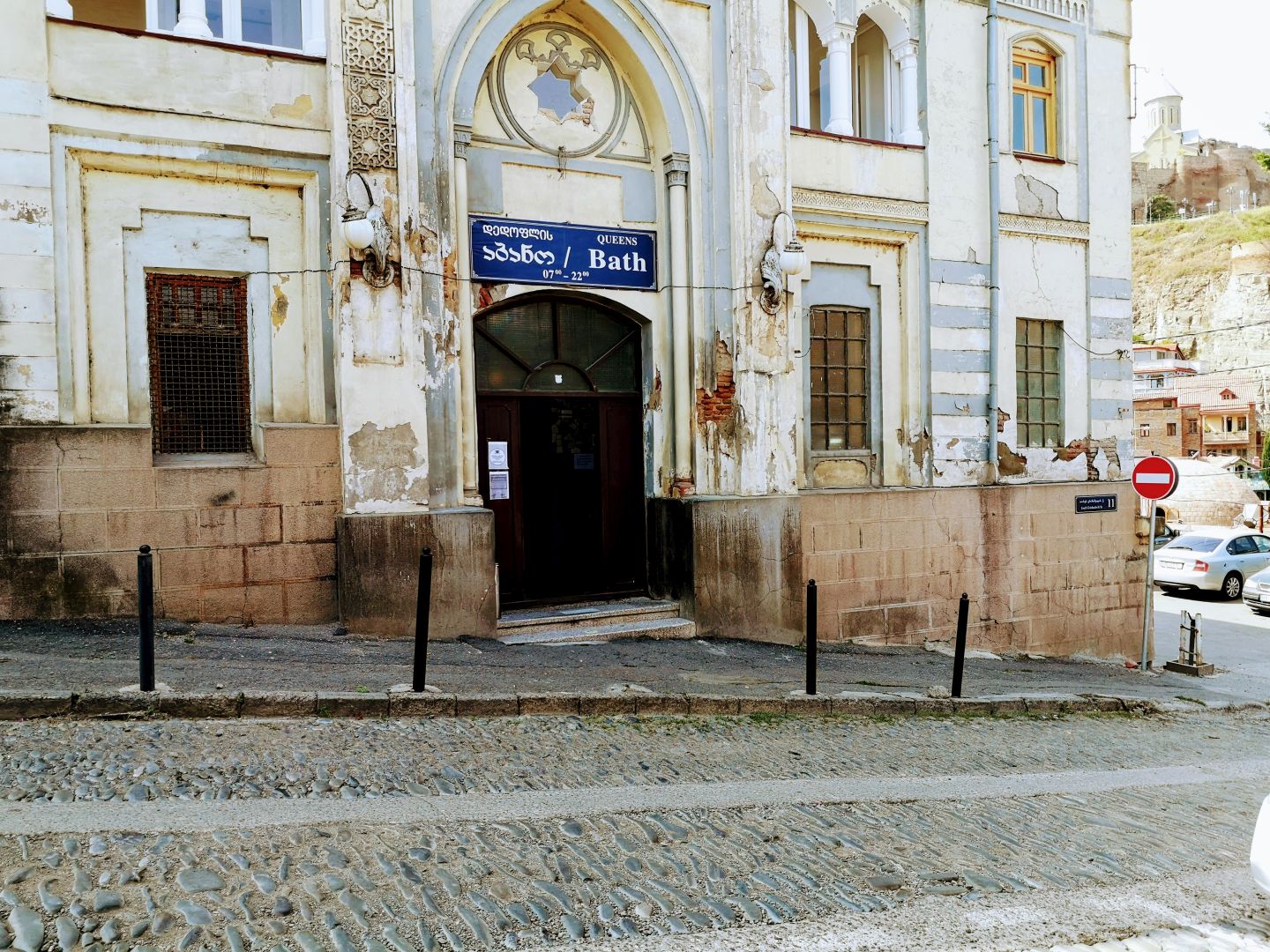 Abanotubani Sulfur Baths in Tbilisi, also known as "Royal Baths" are the best choice for a vacation after a tense, tiring, and long week. Inside of the old architectural walls, you can forget all of the reasons to worry. Here you can relax to the fullest and the personnel will take care of your skin and body. For extra privacy, you can get a private bath in exchange for an extra cost.
Insider tip for newcomers: Do not book a bath in advance before arriving, as you can have a detailed tour on spot and you will discover a lot more than on the website.
There's a place in Georgia, where snowy shore meets gravity waves breezed from the Black Sea. If you are lucky enough the snow may even reach one or half meter high. It doesn't snow every year in Batumi, but when it does, there is a view and atmosphere you'll never forget. If you decide to visit a seaside Batumi, take into consideration that the temperature is not as low in the winter as in other regions and cities of Georgia, but also note that a 3-4 meter storm may come out of the blue. It is just another level of exotic when you can visit a snowy seaside beach resort. Open-air concerts and flea markets organized by the government make sure that tourists are in their holiday mood. And while being in Batumi, do not forget to visit the biggest Botanical garden in the area.
Pack your cozy and warm clothes and buy the next flight to Georgia in order to gain some new experiences you will tell your grandchildren one day. Whether you are an extreme lover or not you will find a place and an activity for your taste. An adventurous country awaits you.